North Sikkim Tour is ex-Gangtok – consists Lachen, Thangu, Chopta Valley, Gurudogmar Lake, Lachung, Yumthang visit and return, duration 3 night / 4 days – a preview of India's own Switzerland.
North Sikkim Tour Itinerary:
Itinerary: Gangtok – Lachen – Thangu – Chopta Valley – Gurudogmar Lake – Lachung – Yumthang – Gangtok
Duration: 3 nights / 4 days
Day-1: Between 10:00 a.m. to 11:00 a.m. start journey towards Lachen. Just about 115 km from Gangtok, Lachen is located at an altitude of 8838 ft. Nearby villages of Rabom, Chaten, Talem, Yakthang, Kalep, Samdong and Thangu form a larger part of Lachen. Foot trails to the country's highest mountain peak Mt. Khangchendzonga and Mt. Sinolchu the most beautiful peak begin at your approach in Lachen. En-route Seven Sisters Water Fall, (Lunch at your own cost) Miyang Chu, Naga Water Fall, Taram Chu sight seeing. Taram Chu is one of the Sikkim's most notable hot springs. The springs, which have a high sulphur content, are renowned for their medicinal and therapeutic values.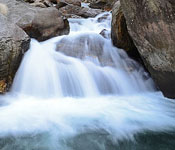 Naga Waterfalls lies at the Lachung-Yumthang Valleys trek route. The place offer panoramic view of snow-caped mountains all around. Chungthang lies on the confluence of two hilly rivers Lachen and Lachung Chu.
4:00 – 5:00 p.m. Arrival at Lachen. Check in to Hotel Himalayan Residency & over night stay in leisure. Lachen is perfect for an overnight halt when you having the spectacular north sikkim Tour.
Day-2: 5:00 a.m. Start for day excursion to Gurudogmar Lake, Thangu, Chopta Valley. Gurudongmar Lake, also known as Gurudogmar Lake, is one of the highest lakes in the world, located at an altitude of 17,800 ft (5,430 m). It is a lake which is considered sacred by both Buddhists and Sikhs. Thangu is located at an altitude of 13000 feet. Thangu is about 30 kilometers north of Lachen. Since it is located at a high altitude, the place remains covered with snow for most of the time. Just 20-25 minutes drive from Thangu, only few places come close to the virgin appeal of Chopta Valley.
2:00 – 3:00 p.m. reach Lachen, afternoon transfer to Himalayan Residency, Lachen. Thus ends second day of your North Sikkim Tour.
Day-3: 8:30 a.m. After early breakfast, Day excursion to Simba Rhododendron Sanctuary, Yumthang Valley & Hot Spring. Lunch at Lachung, after noon free. Over night stay at Himalayan Residency, Lachung in the 3rd day of North Sikkim Tour.
Day-4: 9:00 a.m. Start for Gangtok, Vim Nala & Twin Water Fall sight seeing on the way (Lunch at your own cost). Arrival at Gangtok in the afternoon. North Sikkim Tour concludes.
Your arrival to Gangtok and departure can be arranged by Himalayan Tourism.